Best Dental Care in Orange, California - Conveniently Located Near You!
Discover Our Dental Care Services
Get best dental services in Orange, California at Smile N Shine Dental Care 
Preventive Dental Care is a crucial cornerstone in preserving optimal oral health and thwarting the emergence of severe dental issues.

By implementing these preventive measures, we can promptly identify dental problems at their nascent stages and avert the progression of potentially life-threatening conditions.
Cosmetic Dentistry is dedicated to elevating the aesthetic appeal of teeth and achieving the harmonious beauty and symmetry of an individual's smile.

With a range of procedures, such as teeth whitening, veneers, dental implants, and orthodontic treatments like Invisalign, Cosmetic Dentistry presents a diverse set of solutions to enhance smile aesthetics, restore dental function, and elevate overall confidence and well-being. By combining artistic finesse with advanced dental techniques, Cosmetic Dentistry aims to create smiles that radiate both beauty and confidence, positively impacting the lives of patients.
Orthodontics - Invisalign
Invisalign has become a widely favored orthodontic solution due to its utilization of clear, removable aligners to effectively straighten teeth and address bite issues.

This advanced treatment offers a comfortable, discreet, and convenient alternative to traditional metal braces, enabling patients to achieve optimal oral health and enhance self-confidence during their orthodontic journey.

The virtually invisible nature of Invisalign aligners makes them particularly appealing to adults who desire a more natural-looking approach to resolve concerns like crooked, crowded, or misaligned teeth. This discreet option empowers individuals to undergo orthodontic treatment without drawing unnecessary attention to their teeth, providing an effective and aesthetically pleasing way to achieve a beautifully aligned smile.
Restorative Dentistry encompasses a diverse range of procedures designed to repair and restore damaged teeth, ultimately enhancing both their functionality and appearance.

With a comprehensive approach, Restorative Dentistry offers a multitude of solutions, such as dental fillings, crowns, implants, bridges, and dentures. These treatments aim to address various dental issues, providing patients with an opportunity to regain their healthy, natural-looking smile, while also promoting optimal oral health and overall well-being.

Whether it's treating cavities, restoring cracked or broken teeth, replacing missing teeth, or improving bite and alignment, Restorative Dentistry plays a pivotal role in the comprehensive care of a patient's dental health. By offering these effective and tailored solutions, patients can experience improved oral function, a boost in self-confidence, and the ability to enjoy a more fulfilling and comfortable lifestyle.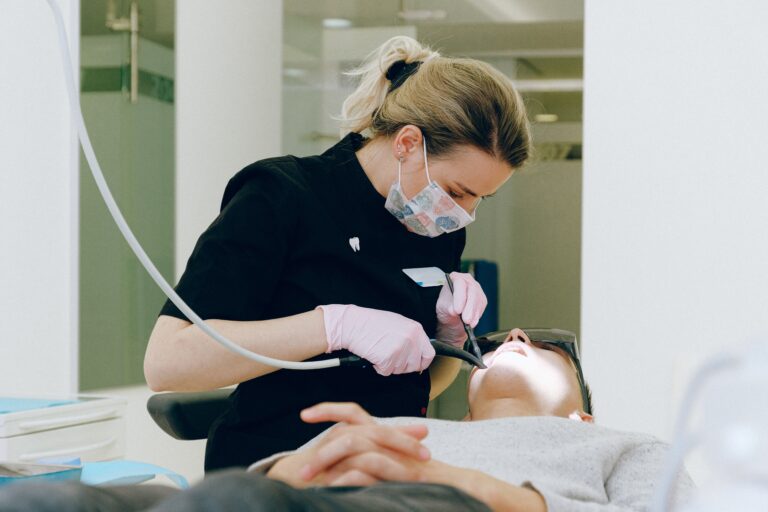 Periodontal Treatment is a critical aspect of maintaining oral health and plays a vital role in preventing, diagnosing, and treating gum diseases like gingivitis and periodontitis. Through various procedures such as deep cleaning (also known as scaling and root planning), Periodontal Treatment effectively targets and removes plaque, tartar, and bacteria that accumulate below the gumline and cause gum disease.

By addressing these issues promptly, it helps restore gum health, reduce inflammation, and prevent further progression of the disease. Moreover, Periodontal Treatment is instrumental in preventing bone loss, as advanced gum disease can lead to the deterioration of the underlying bone structure that supports the teeth. By preserving the health of the gums and underlying bone, it contributes to the overall well-being of the oral cavity and the individual's overall health.

Regular Periodontal Treatment is essential for those with gum disease or at risk of developing it, as it can help maintain healthy gums, prevent tooth loss, and improve the overall quality of life. A healthy mouth is crucial for overall health, as gum diseases have been linked to various systemic health conditions, including cardiovascular disease and diabetes. Hence, Periodontal Treatment is a cornerstone of comprehensive oral care and a critical component in promoting optimal overall well-being.
Doctor of Dental Surgery (DDS)
Dr. Shariff earned her Doctor of Dental Surgery degree, equipping her with a comprehensive understanding of dental science and patient care. 
Throughout her career, she has been actively involved in continuing education programs, ensuring that her knowledge and skills remain up to date. By regularly staying informed about the latest developments in dentistry, Dr. Shariff guarantees that her patients receive the most advanced and effective treatments available.
Unleash The Radiance of Your Perfect Smile, Just as You Deserve.
Call us to this number for immediate support